1 ) Quick Heal Total Security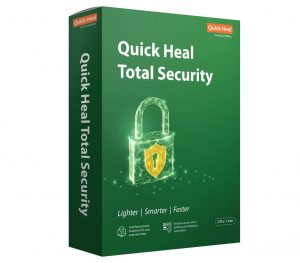 The Quick Heal Total Security software is compatible with two PCs for one complete year. It blocks copying of data from your computer to unauthorized access.
It provides a safe desktop session where your financial transactions on banking portals, shopping, and other e-commerce websites stay private and hidden from hackers.
Allows ransomware protection and parental control. The software allows you to manage webcam access. It offers phishing protection and email protection.
Features:
Ransomware Protection
Virus Protection
Safe Banking
Email Protection
Anti Rootkit
Virtual Keyboard
Pc2mobile Scan
Safe Mode Protection
Browsing Protection
Usb Drive Protection
Scan External Drives
Firewall Protection
Advanced Dnascan
Phishing Protection
Browser Sandbox
External Drive Protection
Anti Malware
Vulnerability Scan
Import And Export Settings
Scan Options
Malware Protection
Smart Scan Engine
Ids/Ips
2 ) Kaspersky Total Security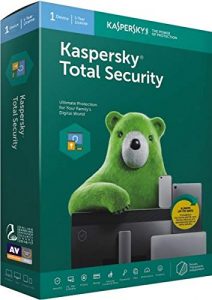 The Kaspersky Total Security comes to serve for one year to one PC. It safeguards your privacy, identity, online banking, shopping, and other digital risks.
Helps keep kids safe from Internet dangers. It protects data, photos, videos, and other confidential files stored on a PC. Lets you manage all your passwords for apps and websites.
Complete defense against cyberthreats
Proactive detection Locates device vulnerabilities & threats
Real-time protection Blocks cyberthreats before they take hold
Instant neutralization Isolates & removes immediate dangers
3 ) K7 Total Security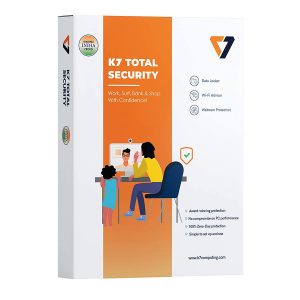 The K7 Total Security delivers complete security to one PC for one year. It provides comprehensive protection of devices, data, and user identity.
It ensures safe online banking, shopping, and warns you to visit unsafe sites to prevent scams and password theft. The software can warn you when sensitive information is being compromised and help in recovering deleted files using data recovering tools.
Features:
Threat Detection
Advanced PC Security
Product Update
Internet Protection
Web Protection
Privacy / Parental Control
PC Tuneup Tools